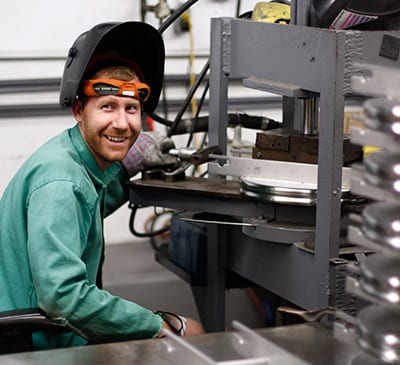 Bringing your new product idea or process modification to reality requires custom metal fabrication capabilities that surpass the ordinary. That's what Winston Manufacturing offers entrepreneurs, OEM developers, and any other innovator with a unique product vision or manufacturing challenge. As an innovative foodservice equipment manufacturer with decades of experience, we have perfected processes and made major investments in the best equipment. Our goal is to make these valuable resources available to you as your manufacturing partner.
A New Generation of Metal Fabrication
Choose Winston Manufacturing for your custom metal fabrication needs and you will have access to unmatched capabilities through our Salvagnini flexible fabrication technology. Winston has invested in the Salvagnini SL4 Integrated Punching /Fiber Laser Cutting System and the Salvagnini P4 Automatic Panel Bender.  We are one of the only US sheet metal fabricators that can offer this level of custom metal fabrication.  Partnering with us means you will have access to the most advanced custom metal fabrication services available.
Access without Investment and Expense
Our custom metal fabrication equipment and expertise allow you avoid the cost of capital investments, maintenance, and labor. Our raw material stock allows you to lower your inventory costs. These advantages save your bottom line while our Just-In-Time delivery program assures you are always productive and profitable.
As your manufacturing partner, our goal is to deliver a complete solution for your custom metal fabrication needs.