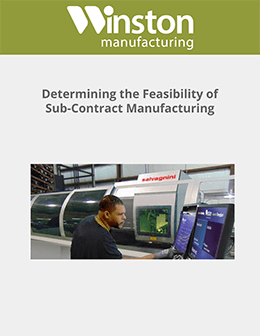 Sub-contract manufacturing can be an effective strategy for addressing production issues for many OEMs. Outsourcing allows a company to grow without increasing overhead or tying up in-house resources. Advantages may also include reduced labor costs, expanded capabilities, and the ability to meet growing demand.
Deciding whether or not to outsource depends on consideration of the unique factors and circumstances involved with your operation. The purpose of our eBook entitled Determining the Feasibility of Sub-Contract Manufacturing is to help guide you in the steps to determine if sub-contract manufacturing would work for your business.
Topics we will look at include:
Establishing Your Internal Cost Baseline
Assessing Internal Capacity and Capability
Considering Potential Issues
Compiling Your Prospective Vendor List
Establishing Your Next Steps
Just fill out the short form on the right to download your FREE eBook now!