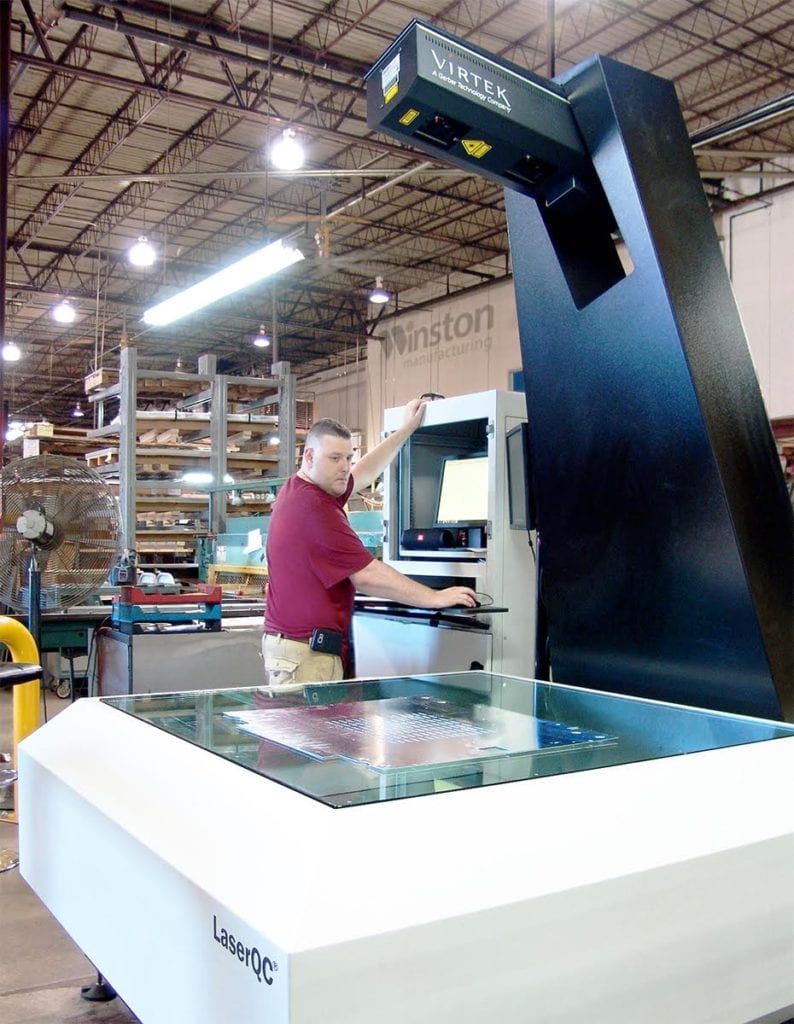 At Winston Manufacturing we believe in providing products and services at the minimum cost with maximum capability. This requires smart processes, people and equipment, and Winston Manufacturing has an abundance of all three.
Acquiring the newest technology in precision fabrication and metal bending equipment has allowed us to become the manufacturing partner that you deserve. Our decades of experience on the floor paired with millions in technological investments, enables us to use our "smart" manufacturing processes for you.
Below is the list of our ever growing inventory of equipment and the capabilities that these machines bring to the table. Contact us to learn more about all of our machinery and how we can become your full product manufacturing partner.
Salvagnini SL4 Punch/Laser Combination
52 hydraulic punching stations
2 kilowatt fiber optic laser
Maximum work piece size 60" by 120"
Salvagnini P4 Panel Bender with Cut Option
Allows multiple bends from a single sheet
Cut option allows shearing components without going to another work center
Maximum work piece size 60" by 110"
Measures tolerances within 0.002 inches (0.05mm)
Each part is inspected with more than 500 data points per second
Scanning process captures the complete profile of existing parts or templates
Quickly identifies quality issues by verifying system calibration before each scan to ensure repeatable accuracy
Reverse engineers a part to create a CAD file
Turrets and Lasers
Mazak 2.5 kw laser, maximum work piece size 78.7" by 157.4"
Mazak 1.0 kw laser, maximum work piece size 48" by 96".
Amada 50 ton Coma turret presses (two) 
Bending
Accurpress press brake, 48" bed length
Accurpress press brakes, 96" bed length (three)
Accurpress press brake, 120" bed length
Welding (ANSI/AWS Certifications in Aluminum, Stainless Steel, and Mild Steel)
Continuous seam welding
Spot welding
Stud welding
Certified TIG welding
Finishing
Grinding
Grain matching
Deburring
Sandblasting
Stroke sanding
Pickling (light acid dip to remove discoloration)
Vibratory tumbling
Time Saver Burr Removal
Assembly
Full assembly and test capability, including an area separate from daily manufacturing flow which is extremely flexible with the ability to be dedicated to special runs
Electronics and computerized control assembly
Machining
HAAS Multi-axis CNC Mill (added 2017)
CNC Lathes
Multiple secondary operation machines:  Drilling, Tapping, Sanding, Deburring, Countersinking, Fastener Insertion, etc.
CAD Software – Inventor
Drawing formats – .dwg, .dxf
Electronic Integration – Win2uit Division
ISO 9001certified
RoHS compliant
Circuit board manufacturing from bare board to completion
Wire and cable harness manufacture
Electronics rework capability
Electronics box assembly
Prototype engineering support and development area
3-D printing
Stocked Metals – Stainless Steel, Galvanized, Aluminum, and CRS
Additional Services
We have access to powder painting, screen printing, and anodizing if needed