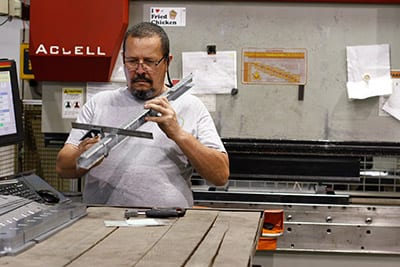 Taking your idea from an engineered design to a market-ready product begins with the development of a quality prototype.  Prototype fabrication done right can mean the difference between a product that succeeds and one that fails. Winston Manufacturing offers you capabilities that go far beyond the typical job shop. We are fully equipped to optimize your prototype fabrication process and offer you the advantage of our high volume purchasing power. You will benefit from significant savings on metal and other material costs.
Let's Build Something Great Together
Bring us your idea or bring us your CAD files. Our experienced team will meet and work with you, whatever phase you are in.  Our investment in state-of-the-art Salvagnini flexible fabrication technology means we have extensive metalworking capabilities. Your prototype fabrication process will result in an aesthetically pleasing, functional prototype that moves you from an idea to a marketable product. Your comprehensive prototype fabrication needs are met, from small-batch, low-cost production runs to fast turnarounds.
You Design the Product, We'll Refine the Process
Helping you build the best prototype is just the beginning. Working from the benefit of our experience and expertise in prototype fabrication, we will help you to develop the most advantageous manufacturing process for your new product. Our Salvagnini fabrication capabilities allow us to test-run and refine your product fabrication until the point of peak efficiency and profitability is reached. Our commitment to you is not only the best prototype, but also the best process for building your end product.